Jurassic World: Dominion Dominates Fandom Wikis - The Loop
Play Sound
This article is incomplete and may require expansion and/or cleanup.

Please improve the article or discuss the issue on the talk page.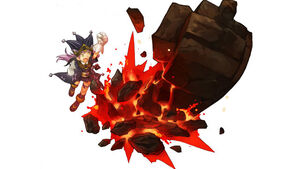 Description
Available to Alchemists at level 45, the Adept is an expert of material manipulation, capable of conjuring simple concoctions like fire and poison and much more complex concoctions like the Super Slop Cocktail! Top it off with a blast of freezing ice beam and you've got destruction on the rocks!
Gender: Female
Features:
Adept focuses on fire and ice magic attacks. Adepts typically play a DPS role in a party.

Adept Weapons:

Primary Weapon: Bubble Blaster
Deal magical damage and has higher magic attack. Bubble Blasters have shorter range and faster firing rate. Shells travel in a straight line but dissipates when it goes past its effective range.
Auxiliary Weapon: Powerglove

Adept Skills
• CLASSES •

Warrior
↙ ↘

Archer
↙ ↘

Sorceress
↙ ↘

Cleric
↙ ↘

Academic
↙ ↘

Kali
↙ ↘

Swordsman
↓

Mercenary
↓

Bowmaster
↓

Acrobat
↓

Force User
↓

Elemental Lord
↓

Paladin
↓

Priest
↓

Engineer
↓

Alchemist
↓

Screamer
↓

Dancer
↓

Gladiator

Barbarian

Artillery

Tempest

Smasher

Saleana

Crusader

Inquisitor

Gear Master

Adept

Dark Summoner

Blade Dancer

Moonlord

Destroyer

Sniper

Windwalker

Chaos Mage

Ice Witch

Guardian

Saint

Shooting Star

Physician

Soul Eater

Spirit Dancer

Assassin
↙ ↘

Lancea
↙ ↘

Machina
↙ ↘

Chaser
↓

Chaser
↓

Piercer
↓

Knightess
↓

Patrona
↓

Launcher
↓

Raven


Abyss Walker


Flurry


Avalanche


Defensio


Impactor


Reaper


Light Bringer


Sting Breezer


Randgrid


Ruina


Buster


Dark Avenger


Silver Hunter


Arch Heretic


Black Mara


Ray Mechanic


Oracle Elder


Bleed Phantom


Vena Plaga