This article is incomplete and may require expansion and/or cleanup.

Please improve the article or discuss the issue on the talk page.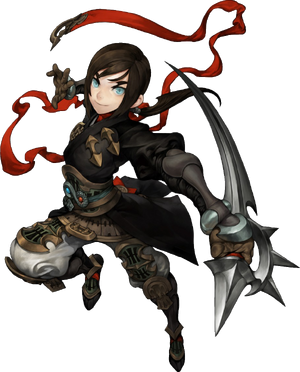 == Description ==
Gender:
Assassin swiftly shadows his opponents and takes their lives using flames of blood and madness. He is affected by Strength and Agility.

The Assassin is a formidable foe who can out-duel any opponent at both mid and close range. As a master of hand-to-hand combat, as well as the Shadow and Light Arts, his particular set of impressive skills will help parties in any situation.
The Assassin starts his adventure in Ironwood Village.

Features:

New mechanic introduced for Assassin which utilizes cool time charging (CTC), all CTC abilities have multiple cool-downs unique from each other.
Pure Physical damage based character

Assassin Weapons:

Primary Weapon(s): Scimitar, Dagger

Scimitars unleash a series of lateral slashes.
Daggers unleash a series of lifting slashes.
Auxiliary Weapon(s): Hook

Assassin Skills
Assassin/Skill Table
Sub-Classes
Chaser
Chaser has deadly weapons handed down from the Ancients' times. He hides the weapons in his clothes and instantly ends the lives of enemies he has tracked down.

Uses physical attacks in the from of hidden weaponry and martial arts.
Bringer
Bringer is a guide to light and darkness. He has both the bright side and a dark side hidden inside.

Uses chakra energy to help allies and attack enemies.
Job Advancement
Tips:
• CLASSES •

Warrior
↙ ↘

Archer
↙ ↘

Sorceress
↙ ↘

Cleric
↙ ↘

Academic
↙ ↘

Kali
↙ ↘

Swordsman
↓

Mercenary
↓

Bowmaster
↓

Acrobat
↓

Force User
↓

Elemental Lord
↓

Paladin
↓

Priest
↓

Engineer
↓

Alchemist
↓

Screamer
↓

Dancer
↓

Gladiator

Barbarian

Artillery

Tempest

Smasher

Saleana

Crusader

Inquisitor

Gear Master

Adept

Dark Summoner

Blade Dancer

Moonlord

Destroyer

Sniper

Windwalker

Chaos Mage

Ice Witch

Guardian

Saint

Shooting Star

Physician

Soul Eater

Spirit Dancer

Assassin
↙ ↘

Lancea
↙ ↘

Machina
↙ ↘

Chaser
↓

Chaser
↓

Piercer
↓

Knightess
↓

Patrona
↓

Launcher
↓

Raven


Abyss Walker


Flurry


Avalanche


Defensio


Impactor


Reaper


Light Bringer


Sting Breezer


Randgrid


Ruina


Buster


Dark Avenger


Silver Hunter


Arch Heretic


Black Mara


Ray Mechanic


Oracle Elder


Bleed Phantom


Vena Plaga