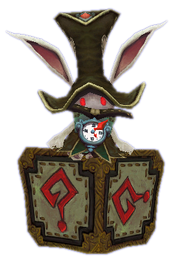 A mysterious race of rabbits that appear after you beat the boss of an Abyss Dungeon. There are two rabbits that can appear: The Silver Dimensional Rabbit or the Gold Dimensional Rabbit.
Function
[
]
The Dimensional Rabbits, when clicked, drops gifts for the player that clicks on it. They can only be clicked once per player, and each player in a party can obtain items from it. If the player has a Dimensional Box Key which can be obtained from bosses of any other dungeon at any difficulty, the rabbits will also give them a number of Dimensional Crystal Fragments which can be sold to NPCs for a large amount of money or traded to an NPC for items, as well as other items such as Epic Skill Plates which can be crafted into Crests.
Later in the game, the Dimensional Rabbits serve as gatekeepers for the Chaos Rifts and will only open the levels if the player has at least one Dimensional Box Key.
Obtaining Dimensional Box Keys
[
]
Dimensional Box Keys can be dropped by any boss monster at a low rate. However, when partying with a character level 24 or lower and running Abyss dungeons, the Dimensional Rabbit at the end will always drop 2 Dimensional Box Key's for every member of the party (1 to replace the one you just used).
Items Dropped (No Key Needed)
[
]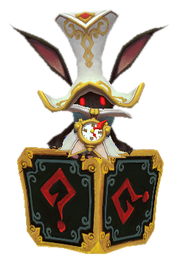 Regardless of whether or not you have a Dimensional Box Key, both rabbits will give you the following rewards:
Gift items (Silver bunnies will drop Magic-quality gifts while Gold bunnies will drop Rare-quality Gifts.)
One or more Nest Passes
Sometimes gives Average Reset Spark of Rare and Epic quality respectively.
Items Dropped (Key Required)
[
]
Note: Even if party members without keys open the box after those with keys, they still will not receive these items.
Gold Dimensional Rabbit
[
]
Dimensional Crystal Fragment

The higher the level requirement is for the dungeon you're doing, the more Fragments you'll receive.

Epic Skill Plates
Epic Reset Spark
Silver Dimensional Rabbit
[
]
Dimensional Crystal Fragment

The higher the level requirement is for the dungeon you're doing, the more Fragments you'll receive.

Rare Reset Spark