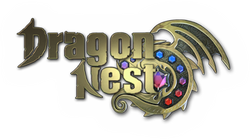 Dragon Nest is a free-of-charge massively multiplayer online role-playing game developed by Eyedentity Games. It uses a non-targeting combat system ensuring that players have complete control over every single one of their character's movements. Dragon Nest requires users to advance their characters by teaming up and traveling into instanced dungeons.
Releases
Asian releases
On November 2, 2007, Nexon Korea Corporation secured rights to Dragon Nest. It was announced that the game would be entering its closed beta in the middle of 2008 but delayed to Fall of 2009.
In December 2007, Shanda, game publisher in China, announced that it would be publishing the Chinese version of Dragon Nest. The Chinese closed beta began on March 25, 2010 with an official release later that year.
It was announced on November 21, 2008 that NHN Japan would publish Dragon Nest in Japan on their Hangame JP portal. On March 4, 2010, NHN Japan announced the people who would act as voice actors of Dragon Nest characters in Japanese. It was also stated that Gackt will voice as Belscard as well as singing the official theme song of the game titled Ever. It has been announced by NHN Japan that Dragon Nest will begin its Japanese closed beta on April 17, 2010.
North American release
At the Penny Arcade Expo in 2009, Nexon America announced that it would be publishing Dragon Nest in North America. Originally, Dragon Nest was scheduled for a mid-2010 release. Nexon America announced that a playable version of Dragon Nest would be shown at the upcoming E3 show in Los Angeles. Its release is now set to be towards the summer of 2011. On April 21, 2011, a closed beta application was started and testing was due to begin on May 17th, 2011. However, on May 6th, an announcement was made that the closed beta testing will be pushed back to June 15 to 20, 2011. The game is currently live.
South East Asia Release
Shanda announced that it will release the Global localization of Dragon Nest. However, they changed it to a South East Asia localization after seeing many of their applicants are from the SEA region. The game entered Closed Beta in July 2011, Open Beta on August of that year, and release the following October.
See Also
External links
Community content is available under
CC-BY-SA
unless otherwise noted.