The Dragon Vault of Dragon Nest is a system akin to Cash Shops of other games. NX Cash can be used to purchase items in the Dragon Vault, or Dragon Scales, which are obtained from certain events, can also be used in place of NX Cash.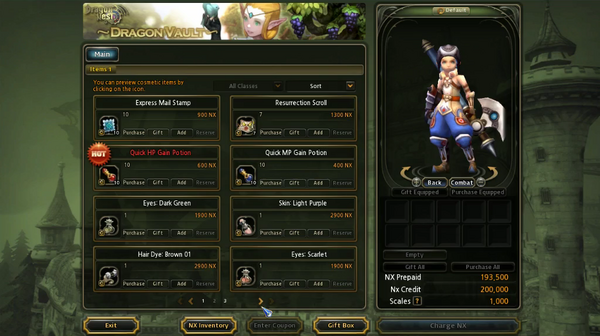 Dragon Vault
[
]
The Dragon Vault may be entered when you're in town by either:
Pressing the icon on the bottom-right of the screen.
Hitting the F11 Key
Currency
[
]
Items in the Dragon Vault may be purchased with the following currency:
NX Prepaid: From Nexon Game Cards. They come in values of 10000 NX and 25000 NX.
NX Credit: From Credit Card purchases, usually obtained through PayPal or PaybyCash, they can be bought in values of 5000 NX, 10000 NX and 30000 NX.
Dragon Scales: From Events, Dragon Scales have a 1:1 ratio with other types of NX (1000 Scales = 1000 NX), however, they usually have a set expiration date.
Dragon Vault Items
[
]
Beginner Package Plus
[
]
| Icon | Description |
| --- | --- |
| | Cannot be Gifted. One Package per Character. Contains the following: |
| Cost | Amount |
| 13900 NX | 1 Beginner Package Plus |
Beginner Package Premium
[
]
| Icon | Description |
| --- | --- |
| | Cannot be Gifted. One Package per Character. Contains the following: |
| Cost | Amount |
| 9900 NX | 1 Beginner Package Premium |
Beginner Package
[
]
| Icon | Description |
| --- | --- |
| | Cannot be Gifted. One Package per Character. Contains the following: |
| Cost | Amount |
| 6900 NX | 1 Beginner Package |
Adventurer's Bag
[
]
| Icon | Description |
| --- | --- |
| | Add 5 extra slots to your inventory. Effective immediately. |
| Cost | Amount |
| 2900 NX | Adventurer's Bag (5 slots) |
Extra Storage
[
]
| Icon | Description |
| --- | --- |
| | Add 5 extra slots to your storage. Effective immediately. |
| Cost | Amount |
| 1900 NX | Extra Storage (5 slots) |
Resurrection Scroll
[
]
| Icon | Description |
| --- | --- |
| | Revives you or a party member. Press the resurrect key to activate. Can be used immediately after purchase. |
| Cost | Amount |
| 3800 NX | 24 Resurrection Scrolls |
| 1300 NX | 7 Resurrection Scrolls |
Quick HP Gain Potion
[
]
| Icon | Description |
| --- | --- |
| | Restores 30% HP. Can be reused in 3 sec. Cannot be used in the Arena (PvP), the Edge of Darkness, or Nests. |
| Cost | Amount |
| 2700 NX | 50 Quick HP Gain Potions |
| 600 NX | 10 Quick HP Gain Potions |
Quick MP Gain Potion
[
]
| Icon | Description |
| --- | --- |
| | Restores 30% MP. Can be reused in 3 sec. Cannot be used in the Arena (PvP) or the Edge of Darkness. |
| Cost | Amount |
| 1800 NX | 50 Quick MP Gain Potions |
| 400 NX | 10 Quick MP Gain Potions |
Yellow Courier Bird (Zone)
[
]
| Icon | Description |
| --- | --- |
| | Delivers a message to everyone in your current field. Can only be used in town. Consumable item. |
| Cost | Amount |
| 1300 NX | 3 Yellow Courier Birds (Zone) |
Approval Stamp
[
]
| Icon | Description |
| --- | --- |
| | Used to seal items. Right-click an item to seal it. Some items require multiple stamps to seal. Once a stamp is used, it disappears. |
| Cost | Amount |
| 3900 NX | 10 Approval Stamps |
Express Mail Stamp
[
]
| Icon | Description |
| --- | --- |
| | Allows you to ignore the daily mail limit. Also allows you to attach up to 5 items and use special stationary. Single use. |
| Cost | Amount |
| 900 NX | 10 Express Mail Stamps |
Cosmetic Items
[
]
Eyes
[
]
Dark Green
[
]
| Icon | Description |
| --- | --- |
| | Magic potion that can change eye color. Use right-click to change the eye color. After changing, cannot be reverted. This is a consumable item. |
| Cost | Amount |
| 1900 NX | 1 Eyes: Dark Green |
Scarlet
[
]
| Icon | Description |
| --- | --- |
| | Magic potion that can change eye color. Use right-click to change the eye color. After changing, cannot be reverted. This is a consumable item. |
| Cost | Amount |
| 1900 NX | 1 Eyes: Scarlet |
Skin
[
]
Light Purple
[
]
| Icon | Description |
| --- | --- |
| | Magic potion that can change skin color. Use right-click to change the skin color. After changing, cannot be reverted. This is a consumable item. |
| Cost | Amount |
| 2900 NX | 1 Skin: Light Purple |
Chocolate
[
]
| Icon | Description |
| --- | --- |
| | Magic potion that can change skin color. Use right-click to change the skin color. After changing, cannot be reverted. This is a consumable item. |
| Cost | Amount |
| 2900 NX | 1 Skin: Chocolate |
Hair Dye
[
]
Brown 01
[
]
| Icon | Description |
| --- | --- |
| | Allows you to dye your character's hair. Right-click to use. Once you dye your hair, it will stay that color until you dye over it. |
| Cost | Amount |
| 2900 NX | 1 Hair Dye: Brown 01 |
Purple 01
[
]
| Icon | Description |
| --- | --- |
| | Allows you to dye your character's hair. Right-click to use. Once you dye your hair, it will stay that color until you dye over it. |
| Cost | Amount |
| 2900 NX | 1 Hair Dye: Purple 01 |
Innocent Bullpup Pet
[
]
Icon
Description
(Poochum)
Max Level: Lv. 20
Stats at Max Level: All stats +20. Max HP/MP +200.
Physical/Magic Damage +20
Abilities: Pick Up Items.

Pet EXP can be earned by clearing Dungeons. Your character's stats will increase depending on the pet's level.
Accessible through the Mount & Pet inventory window after purchase. Right-click to summon. Summoning is only possible after naming the pet.
Cannot be used in Arena (PvP), Guild Wars, or Raid Maps.

Cost
Amount
3300 NX
1
Innocent Poochum Pet
[
]
Icon
Description
(Poochum)
Max Level: Lv. 20
Stats at Max Level: All stats +20. Max HP/MP +200.
Physical/Magic Damage +20
Abilities: Pick Up Items.

Pet EXP can be earned by clearing Dungeons. Your character's stats will increase depending on the pet's level.
Accessible through the Mount & Pet inventory window after purchase. Right-click to summon. Summoning is only possible after naming the pet.
Cannot be used in Arena (PvP), Guild Wars, or Raid Maps.

Cost
Amount
3300 NX
1
Trustworthy Bullpup Pet
[
]
Icon
Description
(Poochum)
Max Level: Lv. 20
Stats at Max Level: All stats +20. Max HP/MP +200.
Physical/Magic Damage +20
Abilities: Pick Up Items.

Pet EXP can be earned by clearing Dungeons. Your character's stats will increase depending on the pet's level.
Accessible through the Mount & Pet inventory window after purchase. Right-click to summon. Summoning is only possible after naming the pet.
Cannot be used in Arena (PvP), Guild Wars, or Raid Maps.

Cost
Amount
3300 NX
1
Trustworthy Poochum
[
]
Icon
Description
(Poochum)
Max Level: Lv. 20
Stats at Max Level: All stats +20. Max HP/MP +200.
Physical/Magic Damage +20
Abilities: Pick Up Items.

Pet EXP can be earned by clearing Dungeons. Your character's stats will increase depending on the pet's level.
Accessible through the Mount & Pet inventory window after purchase. Right-click to summon. Summoning is only possible after naming the pet.
Cannot be used in Arena (PvP), Guild Wars, or Raid Maps.

Cost
Amount
3300 NX
1
| Level | Rewards |
| --- | --- |
| 1 | |
| 2 | |
| 3 | |
| 4 | Resurrection Scroll |
| 5 | NX Costume Headgear, Storage Expansion Discount Coupon (3 Days) |
| 6 | NX Costume Body Armor |
| 7 | NX Costume Gloves |
| 8 | NX Costume Leg Armor |
| 9 | NX Costume Shoes |
| 10 | Adventurer Bag, Extra Storage |
| 11 | NX Costume Earrings, Dreamy Emergency HP Recovery Potion x 5 |
| 12 | NX Costume Ring, Dreamy Emergency MP Recovery Potion x 5 |
| 13 | |
| 14 | |
| 15 | |
| 16 | |
| 17 | Adventurer Bag, Extra Storage, |
| 18 | Dreamy Emergency HP Recovery x 5, |
| 19 | Dreamy Emergency MP Recovery Potion x 5 |
| 20 | |
| 21 | |
| 22 | |
| 23 | |
| 24 | |
| 25 | Dreamy Messenger Yellow Bird x 2, Goddess Teardrop |
| 26 | |
| 27 | |
| 28 | |
| 29 | |
| 30 | |
| 31 | |
| 32 | |
| 33 | |
| 34 | |
| 35 | |
| 36 | |
| 37 | |
| 38 | |
| 39 | |
| 40 | |
| 41 | |
| 42 | |
| 43 | |
| 44 | |
| 45 | |
| 46 | |
| 47 | |
| 48 | |
| 49 | |
| 50 | |