This article is incomplete and may require expansion and/or cleanup.

Please improve the article or discuss the issue on the talk page.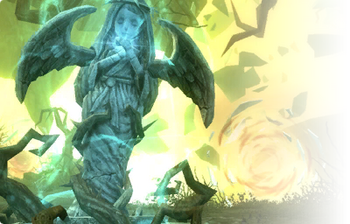 …Sister Lithia told me that if we could only understand the import of the nightmares into the world, we might find a way to awaken the Goddess by healing her psychic trauma. If that is true, what am I to make of the Jealous Atrium where enemies perpetually attack a statue of Althea herself? Does the Goddess hate herself for what she is doing to the world?
-- The Secret Diary of Jacob, sealed by the Cleric's Order under penalty of death.

Jealous Atrium is a "wave" dungeon. The challenge is to successfully defeat 24 rounds of successively more difficult enemies and protect a statue of the Goddess Althea. In order to pass a wave, you must complete the wave's victory conditions and prevent the statue from being destroyed. Every player who enters the Jealous Atrium only has one life. Should you die during the challenge, you will no longer be able to affect the battle.
Details
[
]
In Jealous Atrium, players must protect the Goddess Statue, fighting through 24 spawns of bosses and monsters. Each run requires an Abyssal Veil, 2 of which are obtained daily through the mailbox. Players must be level 15 or above to enter. During the dungeon, no players will be able to revive. If all players die or if the Goddess Statue runs out of health, the dungeon will end. Depending on how many rounds you clear, you will be rewarded.

After a round, a Crazy Duck will have the chance to appear, though it does this most often after Boss Rounds. Defeating it will restore part of the Goddess Statue's health. If players gather around the goddess statue, their health will be fully restored.
Achievements
[
]
Rewards
[
]
Aside from Broken Nightmare Crystals which may be obtained at any stage, additional prizes include the following:
Rewards
Rounds
Prizes
1
2
3
4
5
6
7
8
9
10
11
12
13
14
15
16
17
18
19
20
21
22
23
24
Rounds
[
]
There are 4 Round types:
Wave: Players will face a large number of enemies, all of the same type. They may vary in size and power. The round ends when all enemies are killed.
Mix: A large Boss with a few minions appears. The round ends when all enemies are killed. The tip is to have an allotted member fight off the boss.
Boss: A large boss enemy approaches the statue to break it. The round ends when the boss is killed.
Crazy Duck: These usually happen after Boss rounds, although they may happen randomly at other points during the challenge. "Crazy Ducks" will appear and may be killed to recover the Goddess Statue's HP. This is the only way to recover HP during the challenge.
Round 1: Wave

[

]

Monster Name
Tips
Poochum
Amount Spawned
Notes
50

Round 2: Wave

[

]

Monster Name
Tips
Goblin
Amount Spawned
Notes
25(?)

Round 3: Wave

[

]

Monster Name
Tips
Kobold Bandit
Amount Spawned
Notes
30(?)

Monster Name
Tips
Kobold Archer
Amount Spawned
Notes
3

Round 4: Boss

[

]

Monster Name
Health
Tips
Jealous Ogre Barbarian
x4 Bars
Amount Spawned
Level
Notes
1
120

Round 5: Wave

[

]

Monster Name
Tips
Armored Poochum
Amount Spawned
Notes
50(?)

Round 6: Wave

[

]

Monster Name
Tips
Green Orc
Amount Spawned
Notes
18

Round 7: Mix

[

]

Monster Name
Health
Tips
Dragon Cultist
x4 Bars
Amount Spawned
Level
Notes
1
120

Monster Name
Tips
Skeleton Warrior
Amount Spawned
Notes
24
*The Skeleton Warriors will endlessly spawn until the Dragon Cultist is killed.

Round 8: Wave

[

]

Monster Name
Tips
Slinger Goblin
Amount Spawned
Notes
18(?)

Round 9: Wave

[

]

Monster Name
Tips
Hex Ghoul
Amount Spawned
Notes
6

Monster Name
Tips
Ash Ghoul
Amount Spawned
Notes
18

Round 10: Boss

[

]

Monster Name
Health
Tips
Old Gobbus
x4 Bars
Amount Spawned
Level
Notes
1
120

Monster Name
Tips
?
Amount Spawned
Notes
1

Monster Name
Tips
?
Amount Spawned
Notes
1

Monster Name
Tips
?
Amount Spawned
Notes
1

Monster Name
Tips
?
Amount Spawned
Notes
1

Monster Name
Tips
Green Goblin
Amount Spawned
Notes
42

Round 11: Wave

[

]

Monster Name
Tips
Goblin Assassin
Amount Spawned
Notes
36(?)

Round 12: Boss

[

]

Monster Name
Health
Tips
Ogre
x4 Bars
Amount Spawned
Level
Notes
4
120

Round 13: Mix

[

]

Monster Name
Health
Tips
Dragon Cultist
x4 Bars
Amount Spawned
Level
Notes
1
120

Monster Name
Tips
Troll
Amount Spawned
Notes
18

Round 14: Wave

[

]

Monster Name
Tips
? Ghoul
Amount Spawned
Notes
18

Round 15: Boss

[

]

Monster Name
Health
Tips
Ummanba
x4 Bars
Amount Spawned
Level
Notes
1
120

Round 16: Wave

[

]

Monster Name
Tips
Minotaur
Amount Spawned
Notes
18(?)

Round 17: Wave

[

]

Monster Name
Tips
Skeleton Orc
Amount Spawned
Notes
12

Monster Name
Tips
Skeleton Goblin
Amount Spawned
Notes
12

Monster Name
Tips
Skeleton Troll
Amount Spawned
Notes
6

Round 18: Wave

[

]

Monster Name
Tips
Kobold Cannon(?)
Amount Spawned
Notes
6

Round 19: Mix

[

]

Monster Name
Health
Tips
Dragon Cultist
x4 Bars
Amount Spawned
Level
Notes
1
120

Monster Name
Tips
? Wraith
Amount Spawned
Notes
18(?)

Round 20: Boss

[

]

Monster Name
Health
Tips
Zxyzzrx
x4 Bars
Amount Spawned
Level
Notes
2
120

Round 21: Boss

[

]

Monster Name
Health
Tips
Armored Ogre
x4 Bars
Amount Spawned
Level
Notes
1
120

Round 22: Wave

[

]

Monster Name
Tips
Dark Scream
Amount Spawned
Notes
12

Boss Round: Boss

[

]

Monster Name
Health
Tips
Manticore
x4 Bars
Amount Spawned
Level
Notes
2
120

Bonus Round

[

]

Monster Name
Tips
?
Amount Spawned
Notes
1