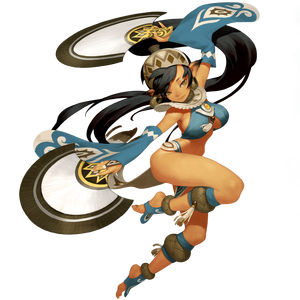 == Description ==
Gender: Female
Her graceful moves are not only mesmerizing but deadly to enemies, as she summons powerful spirits to aid her in combat. She is most affected by Strength and Intellect

In Altera's darkest moments, when adventurers everywhere called for a savior, Rose was born. With the power of the Ancients on her side, many believed that Rose would be the one to wade through the sea of chaos and lead Altera into an age of peace and prosperity. But Rose wasn't the only child blessed by the power of the Ancients.
A second prophet, born beneath the shadow star, has emerged from a desert town hidden away from the rest of Altera. She was trained to wield the power of her ancestors at an early age, but the time to fight arrived sooner than anyone could have predicted...
The Kali hails from a shamanistic tribe whose purpose is to watch over Rose. Kali is known as the Star of Darkness who is destined to be the guardian and foil for Rose. As Liam attacked and killed most of the tribe, the only remaining survivor was charged to seek out and protect Rose.
Combining fluid fan and chakram strikes with crippling dark magic and spirit attacks, this mysterious fighter darts from enemy to enemy with mesmerizing grace, strengthening allies and overwhelming foes in a dance of devastation.
The Kali starts her adventure in Ironwood Village.

Features:

mid-range character
summon ghosts and spirits at later class advancements[1]

Kali Weapons:

Primary Weapon(s): Fans, Chakrams
Fans shoot 3 talismans that deal non-elemental magic damage and has higher magic damage than Chakrams.
Chakrams has a 3 hit combo attack that ends with a 3 hit spin. Unlike Axes, the Chakram's normal attacks cannot connect on fallen targets. Chakrams deal physical damage, and has higher physical damage than fans.


Auxiliary Weapon(s): Focus - usually has equal physical and magic damage

Kali Skills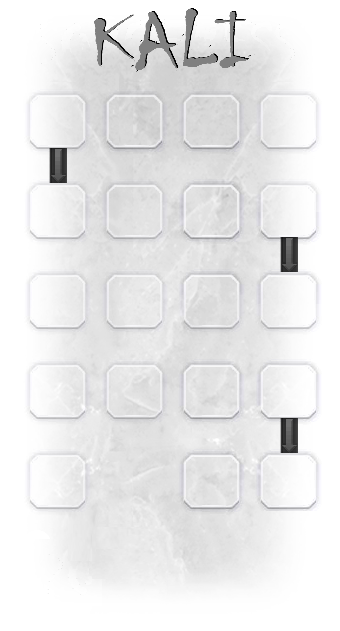 Sub-Classes
Screamer
Screamer who is aided by talismans and spirits. There are no enemies who can withstand her unrelenting torture and the attack from the spirits.

Focuses on dark claws and dark spiritual magic attacks. The Screamer's entire repertoire of attacks are Dark elemental. The Screamer's attacks have longer range but smaller Area of Effect. Using twin fans as her main weapon, the Screamer will spare no mercy as she unleashes a variety of curses and nasty status ailments upon her enemies. At level 45, a Screamer can choose to become a Dark Summoner or a Soul Eater.
Dancer
Dancer who uses chakram and spirit possession to attack enemies. Don't be mesmerized by her dance moves.

Focuses on blade and spiritual physical attacks. The Dancer's attacks are mostly melee and have wider Area of Effect focused on attacking enemies using a deadly combination of dance-like movements and her weapon of choice, the chakram can be used to empower allies or destroy her enemies. At Level 45, Dancers can choose to hone their lethal potency with chakrams as Blade Dancers, or focus on summoning spirits to battle as Spirit Dancers.
Job Advancement
At level 15, talk to Bailey at Carderock Pass to receive the quest. He will send the player to talk to the Hermit's Totem.
The player will be sent to a special room to fight 3 waves Poochums and Kobold Ninjas and finally a Gargoyle. The objective is to defeat all monsters.
Upon job advancement, you will receive an item that allows you to reset your skills. This item expires after 7 days.
Beware - once you select your class you CANNOT change it, so choose wisely
Tips: Unlike most Gargoyles, the Gargoyle at the end has the Shock Wave ability. Also, as the level of Spinning Step is still low, focus more on avoiding damage rather than dealing damage.
EmbedVideo was given an illegal value for the alignment parameter "Second Job Advancement Video Guide". Valid values are "left", "center", "right", or "inline".
• CLASSES •

Warrior
↙ ↘

Archer
↙ ↘

Sorceress
↙ ↘

Cleric
↙ ↘

Academic
↙ ↘

Kali
↙ ↘

Swordsman
↓

Mercenary
↓

Bowmaster
↓

Acrobat
↓

Force User
↓

Elemental Lord
↓

Paladin
↓

Priest
↓

Engineer
↓

Alchemist
↓

Screamer
↓

Dancer
↓

Gladiator

Barbarian

Artillery

Tempest

Smasher

Saleana

Crusader

Inquisitor

Gear Master

Adept

Dark Summoner

Blade Dancer

Moonlord

Destroyer

Sniper

Windwalker

Chaos Mage

Ice Witch

Guardian

Saint

Shooting Star

Physician

Soul Eater

Spirit Dancer

Assassin
↙ ↘

Lancea
↙ ↘

Machina
↙ ↘

Chaser
↓

Chaser
↓

Piercer
↓

Knightess
↓

Patrona
↓

Launcher
↓

Raven


Abyss Walker


Flurry


Avalanche


Defensio


Impactor


Reaper


Light Bringer


Sting Breezer


Randgrid


Ruina


Buster


Dark Avenger


Silver Hunter


Arch Heretic


Black Mara


Ray Mechanic


Oracle Elder


Bleed Phantom


Vena Plaga