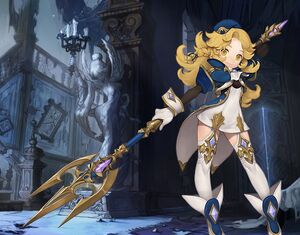 == Description ==
Gender: Female
The wide area attacks and ranged attacks from her spear storm at enemies, denying even the chance for them to run away. She is most affected by Strength and Intellect.

Charismatic, yet somewhat accident-prone, Lencea sweeps enemies off of the battlefield with her spear. Although her cute appearance and clumsy personality makes her look like an innocent girl, do not underestimate her elegant spear-handling and passionate drive for justice and peace.
The Lencea starts her journey in Mana Ridge.

Features:
Lancea specializes in using her spear to sweep away enemies in any battles with her strong, storm-like swings. With her magic attacks that blast from the tip of her spear, she won't let any fleeing enemies escape!
As she deals both magical and physical damage, Lencea benefits most from STR and INT stats.
Although she is not quite nimble, some of her skills are geared to allow speedy escapes from imminent danger.

Lancea Weapons:

Primary Weapon(s): Spears


Auxiliary Weapon(s): Bracelets

Lancea Skills
Lancea/Skill Table
Sub-Classes
Piercer
Piercer wields a huge spear freely like it is part of her own body. No enemy can escape her spear.

Using the pure power from her spear, a Piercer exhibits aptitude in direct, physical attacks to lead her allies into battles. Her mid-ranged, magic attacks and skills can also allow her to combo and inflict various wounds to her enemies.
Knightess
With a jousting lance on her shoulder, Knightess walks her own path and impales whatever it is that stands in her way.


Job Advancement
Tips:
• CLASSES •

Warrior
↙ ↘

Archer
↙ ↘

Sorceress
↙ ↘

Cleric
↙ ↘

Academic
↙ ↘

Kali
↙ ↘

Swordsman
↓

Mercenary
↓

Bowmaster
↓

Acrobat
↓

Force User
↓

Elemental Lord
↓

Paladin
↓

Priest
↓

Engineer
↓

Alchemist
↓

Screamer
↓

Dancer
↓

Gladiator

Barbarian

Artillery

Tempest

Smasher

Saleana

Crusader

Inquisitor

Gear Master

Adept

Dark Summoner

Blade Dancer

Moonlord

Destroyer

Sniper

Windwalker

Chaos Mage

Ice Witch

Guardian

Saint

Shooting Star

Physician

Soul Eater

Spirit Dancer

Assassin
↙ ↘

Lancea
↙ ↘

Machina
↙ ↘

Chaser
↓

Chaser
↓

Piercer
↓

Knightess
↓

Patrona
↓

Launcher
↓

Raven


Abyss Walker


Flurry


Avalanche


Defensio


Impactor


Reaper


Light Bringer


Sting Breezer


Randgrid


Ruina


Buster


Dark Avenger


Silver Hunter


Arch Heretic


Black Mara


Ray Mechanic


Oracle Elder


Bleed Phantom


Vena Plaga