This article is incomplete and may require expansion and/or cleanup.

Please improve the article or discuss the issue on the talk page.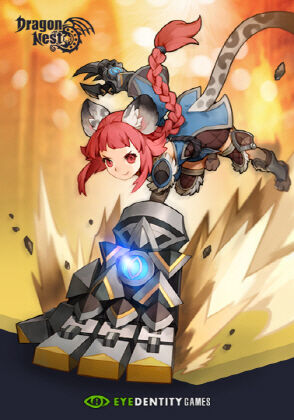 == Description ==
Gender: Female
A melee fighter who uses her giant Knuckle Gear and fancy animal-like moves to subdue enemies and aid allies. She is most affected by Agility and Vitality.

A hybrid girl from the Krita tribe, the Machina cares little for Dragons, Prophets, or the Black Knight. After losing her arm and being separated from her fellow villagers in an airship crash, the Machina goes on a journey to find what remains of her people.

Features:

Machina Weapons:

Primary Weapon(s): Knuckle Gear, Blasters

Knuckle Gear are smoother and have longer combos than Blasters.


Blasters

have shorter combos and move more erratically, although they have a slightly longer range. They do less damage than Knuckle Gear until the finisher hit, which deals large amounts of damage in a large radius.
Auxiliary Weapon(s): Claws

Machina Skills
Machina/Skill Table
Sub-Classes
Patrona
Patrona controls the Knuckle Gear freely and she swiftly subdues her opponents with outstanding combat and animal-like moves.

Patrona's beastly feline movements exude ultimate power and speed that overpower her enemies.

At level 45, Patrona can specialize into either Defensio or Ruina.
Launcher
With the Power of Light, Launcher controls the Blaster that has become part of her body. Her dynamic movements deny any counterattack from enemies.

Launcher controls the power of light to deal vast amounts of damage over large areas.

At level 45, Launcher can specialize into either Impactor or Buster.
Job Advancement
After reaching level 15, your character will receive a remote quest. Upon accepting it and talking to Xiaolong, you will be teleported to the Selection Room, where they can choose between the Patrona and Launcher subclasses.
Tips:
Your range, especially when using blasters, is slightly longer than the game says. Even if the cursor is not red, the enemy might still be close enough for you to hit it.

Although your first hit will miss, the second hit of your combo with both weapons will launch the enemy into the air where you can attack it more. When right-clicking on a downed enemy, you will stumble after the attack and be vulnerable, so it's normally safer to either attack the enemy normally or use

Pivot Gun Shot

to launch them into the air.
In fights that rely on dodging a boss' attacks, avoid skills like

Pivot Gun Shot

and

Bounding Reaction

, as these will prevent you from dodging for their duration.
• CLASSES •

Warrior
↙ ↘

Archer
↙ ↘

Sorceress
↙ ↘

Cleric
↙ ↘

Academic
↙ ↘

Kali
↙ ↘

Swordsman
↓

Mercenary
↓

Bowmaster
↓

Acrobat
↓

Force User
↓

Elemental Lord
↓

Paladin
↓

Priest
↓

Engineer
↓

Alchemist
↓

Screamer
↓

Dancer
↓

Gladiator

Barbarian

Artillery

Tempest

Smasher

Saleana

Crusader

Inquisitor

Gear Master

Adept

Dark Summoner

Blade Dancer

Moonlord

Destroyer

Sniper

Windwalker

Chaos Mage

Ice Witch

Guardian

Saint

Shooting Star

Physician

Soul Eater

Spirit Dancer

Assassin
↙ ↘

Lancea
↙ ↘

Machina
↙ ↘

Chaser
↓

Chaser
↓

Piercer
↓

Knightess
↓

Patrona
↓

Launcher
↓

Raven


Abyss Walker


Flurry


Avalanche


Defensio


Impactor


Reaper


Light Bringer


Sting Breezer


Randgrid


Ruina


Buster


Dark Avenger


Silver Hunter


Arch Heretic


Black Mara


Ray Mechanic


Oracle Elder


Bleed Phantom


Vena Plaga