This article is incomplete and may require expansion and/or cleanup.

Please improve the article or discuss the issue on the talk page.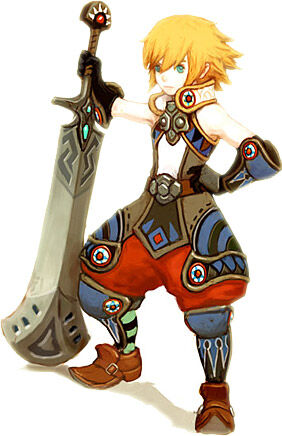 Description
Available to Swordmasters at level 45, the Lunar Knight launches his attack from afar before moving in for the kill. If his devastating barrage of ranged attacks doesn't finish the fight instantly, he slices the opposition into oblivion with a dazzling dance of energy and steel.
Gender: Male
Features:

Very fast
Uses long-range magical attacks to deal damage against enemies.

Lunar Knight Weapons:

Primary Weapon: Greatsword


Auxiliary Weapon: Gauntlets

Lunar Knight Skills
Icon
Name
Passive/Active
Description
Prerequisites
Req. Level

Moon Blade Dance
Active
Jump into the air and shoot 5 sword waves in a downward diagonal. Can be used in the air.
Blade Storm Level 1
45

Moonlight Splitter +
Passive
Strengthens Moonlight Splitter so that sword waves will incur additional range attack damage upon impact.
Moonlight Splitter Level 6
48

Flash Stance
Active
Stand in a ready position. Burst out the sword waves when attack button is pressed. Huge sword wave shoots and cancels ready position when special attack button is pressed.
Moon Blade Dance Level 1
50

Cyclone Slash +
Passive
Strengthens Cyclone Slash, increasing damage, AoE size, and duration. Also grants Cyclone Slash a suction effect that draws enemies into the cyclone.
Moonlight Splitter + Level 1
Cyclone Slash Level 1
55

Crescent Cleave +
Passive
Strengthens Crescent Cleave. Increases damage output by 30% and reduces casting time. Also adds additional waves when attack button is clicked.
Crescent Cleave Level 1
60

Magic Touch
Passive
Increases Magic Damage in relation to the amount of Intellect after hitting an enemy with a magical attack.
None
65

Halfmoon Slash +

Passive
Strengthens Halfmoon Slash. Increases damage output. Also adds an additional wave running in the opposite direction.
Halfmoon Slash Level 1
70
• CLASSES •

Warrior
↙ ↘

Archer
↙ ↘

Sorceress
↙ ↘

Cleric
↙ ↘

Academic
↙ ↘

Kali
↙ ↘

Swordsman
↓

Mercenary
↓

Bowmaster
↓

Acrobat
↓

Force User
↓

Elemental Lord
↓

Paladin
↓

Priest
↓

Engineer
↓

Alchemist
↓

Screamer
↓

Dancer
↓

Gladiator

Barbarian

Artillery

Tempest

Smasher

Saleana

Crusader

Inquisitor

Gear Master

Adept

Dark Summoner

Blade Dancer

Moonlord

Destroyer

Sniper

Windwalker

Chaos Mage

Ice Witch

Guardian

Saint

Shooting Star

Physician

Soul Eater

Spirit Dancer

Assassin
↙ ↘

Lancea
↙ ↘

Machina
↙ ↘

Chaser
↓

Chaser
↓

Piercer
↓

Knightess
↓

Patrona
↓

Launcher
↓

Raven


Abyss Walker


Flurry


Avalanche


Defensio


Impactor


Reaper


Light Bringer


Sting Breezer


Randgrid


Ruina


Buster


Dark Avenger


Silver Hunter


Arch Heretic


Black Mara


Ray Mechanic


Oracle Elder


Bleed Phantom


Vena Plaga