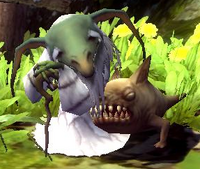 An elderly goblin who has 5 grandsons. Elena has robbed him of most of his grandsons and he wishes for revenge.
If the player is a Warrior or Archer, s/he will first meet Old Gobbus outside Ironwood Village. Old Gobbus requests the player's aid to rescue 3 of his grandsons from the enemy goblins.
Later, Old Gobbus can be found again outside Temple Chapel. Old Gobbus requests for the players aid to find his grandsons again, but this time all 5 has been captured and taken in to Temple Chapel. 4 of the 5 grandsons has been turned into Hobgoblins by Elena's machine and they were killed by the player. The fourth grandson Goblynn couldn't be found but his headband was discovered under a fallen pillar.
Old Gobbus suffers a soul crushing depression and decides to submit himself to the Hobgoblin machine and turns into Old Hobbus in order to take revenge on Elena.