This article is incomplete and may require expansion and/or cleanup.

Please improve the article or discuss the issue on the talk page.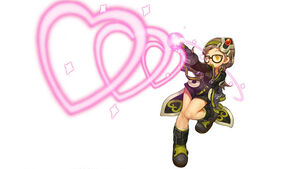 Description
Available to Alchemists at level 45, the Physician uses her medical knowledge to invent her own diseases and devise her own twisted procedures. Enemies seeking medical help will soon realize their mistake when they're hit with debilitating confusion or an injection that siphons their HP and transfers it directly back to their attacker!
Gender: Female
Features:
Physician specializes in poison and healing, and she can play as healing and supportive role in a party.

Physician Weapons:

Primary Weapon: Bubble Blaster
Deal magical damage and has higher magic attack. Bubble Blasters have shorter range and faster firing rate. Shells travel in a straight line but dissipates when it goes past its effective range.
Auxiliary Weapon: Powergloves

Physician Skills
Icon
Name
Passive/Active
Description
Prerequisites
Req. Level

Lovesick
Active
Fire a beam that charms enemies, reversing the targets that they consider as friends and enemies. Also increases magic damage received by 10%. Persists for 6 seconds.
Poison Pool Level 1
45

Injection +
Passive
Enhances Injection, increases damage by 20% and self-healing by 1% HP per hit. Also heals nearby friendly characters within 5m by 8% of the caster's magic attack power per hit.
Injection Level 6
47

Good Vibrations
Active
Consume all stacks of Phantom to heal nearby friendly characters. Increases healing done by 15% per stack of Phantom.
Lovesick Level 1
50

Contagion +
Passive
Strengthen Contagion, increasing the number of flasks to 3. Enemies hit by Contagion + will receive additional damage for a short period.
Contagion Level 1
Injection + Level 1
55

Toxic Twirl +
Passive
Strengthen Toxic Twirl, increasing damage. Click the normal attack mouse button before landing to drop a flask of poison. After that attack, Roto-whirl can be used.
Toxic Twirl Level 1
60
• CLASSES •

Warrior
↙ ↘

Archer
↙ ↘

Sorceress
↙ ↘

Cleric
↙ ↘

Academic
↙ ↘

Kali
↙ ↘

Swordsman
↓

Mercenary
↓

Bowmaster
↓

Acrobat
↓

Force User
↓

Elemental Lord
↓

Paladin
↓

Priest
↓

Engineer
↓

Alchemist
↓

Screamer
↓

Dancer
↓

Gladiator

Barbarian

Artillery

Tempest

Smasher

Saleana

Crusader

Inquisitor

Gear Master

Adept

Dark Summoner

Blade Dancer

Moonlord

Destroyer

Sniper

Windwalker

Chaos Mage

Ice Witch

Guardian

Saint

Shooting Star

Physician

Soul Eater

Spirit Dancer

Assassin
↙ ↘

Lancea
↙ ↘

Machina
↙ ↘

Chaser
↓

Chaser
↓

Piercer
↓

Knightess
↓

Patrona
↓

Launcher
↓

Raven


Abyss Walker


Flurry


Avalanche


Defensio


Impactor


Reaper


Light Bringer


Sting Breezer


Randgrid


Ruina


Buster


Dark Avenger


Silver Hunter


Arch Heretic


Black Mara


Ray Mechanic


Oracle Elder


Bleed Phantom


Vena Plaga