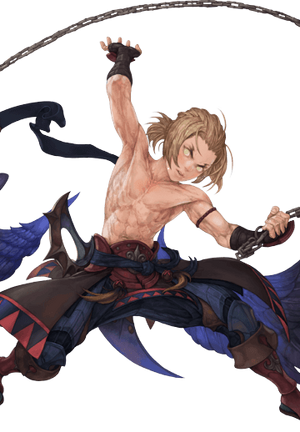 Description
Available to Shinobi at level 45, Raven specializes in keeping all his weapons out of sight. In fact, he just might pull out a weapon from where you least expect, By then, it will be a tad too late for his enemies to even utter their last words.
Gender: Male
Features:

Largely depends on distance for abilities
Conversion of abilities to DARK ATK
Able to reduce enemies defence

Raven Weapons:

Primary Weapon: Scimitars


Auxiliary Weapon: Crooks

Raven Skills
Icon
Name
Passive/Active
Description
Prerequisites
Req. Level

Umbra
Active
A barrier of shadows is created around the skill user. Enemies on the barrier will get damage and a reduction of movement speed. A damage of 30% will be given when enemies are immune to movement speed debuffs.

The End

Level 1
45

Open Edge +
Passive

Open Edge

is enhanced by Crow Knives with higher attack power which launch enemies into the air. DARK ATK.

Open Edge

Level 6
48

Crow's Deadfall
Active
Numerous crows are summoned in front. The crows will pull nearby enemies together and crash into them to create a massive explosion.
Umbra Level 1
50

Applause +
Passive
After

Applause

, additional attacks can be launched by entering the Normal Attack button. Converted to DARK ATK.

Applause

Level 6
Open Edge + Level 1
55

Rake +
Passive

Rake

's number of ninja stars thrown is increased, and additional throws are possible by entering Normal Attack or Special Attack button. The character retreats after throwing when Special Attack button is entered.

Rake

Level 6
60

Crow
Passive
The Raven's Dark attack is enhanced by 10.
N/A
65

Punishment +
Passive
Striking down attack is added to Punishment to enhance attack power and weaken the enemies.

Punishment

Level 6
70
Note: All skills require 65 SP in the Shinobi tree.
• CLASSES •

Warrior
↙ ↘

Archer
↙ ↘

Sorceress
↙ ↘

Cleric
↙ ↘

Academic
↙ ↘

Kali
↙ ↘

Swordsman
↓

Mercenary
↓

Bowmaster
↓

Acrobat
↓

Force User
↓

Elemental Lord
↓

Paladin
↓

Priest
↓

Engineer
↓

Alchemist
↓

Screamer
↓

Dancer
↓

Gladiator

Barbarian

Artillery

Tempest

Smasher

Saleana

Crusader

Inquisitor

Gear Master

Adept

Dark Summoner

Blade Dancer

Moonlord

Destroyer

Sniper

Windwalker

Chaos Mage

Ice Witch

Guardian

Saint

Shooting Star

Physician

Soul Eater

Spirit Dancer

Assassin
↙ ↘

Lancea
↙ ↘

Machina
↙ ↘

Chaser
↓

Chaser
↓

Piercer
↓

Knightess
↓

Patrona
↓

Launcher
↓

Raven


Abyss Walker


Flurry


Avalanche


Defensio


Impactor


Reaper


Light Bringer


Sting Breezer


Randgrid


Ruina


Buster


Dark Avenger


Silver Hunter


Arch Heretic


Black Mara


Ray Mechanic


Oracle Elder


Bleed Phantom


Vena Plaga