Jurassic World: Dominion Dominates Fandom Wikis - The Loop
Play Sound
This article is incomplete and may require expansion and/or cleanup.

Please improve the article or discuss the issue on the talk page.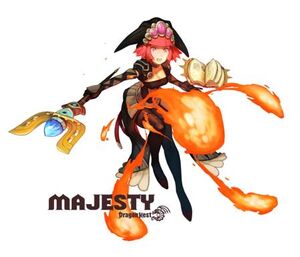 Description
Available to Elementalists at level 45, the Pyromancer summons explosive fireballs and globs of magma straight from the depths of Altera, bringing the heat wherever she goes.
Gender: Female
Features:

Fire magic
Assumes DPS role in parties
Can "ice stack," but her ability to do so is sub-par compared to her sister counterpart, the Ice Witch.

Pyromancer Weapons:

Primary Weapon: Staff


Auxiliary Weapon: Grimoires, Puppets, or Orbs

Pyromancer Skills
Icon
Name
Passive/Active
Description
Prerequisites
Req. Level

Burning Hand
Passive
When a fire attribute attack hits a burned enemy, additional explosion damage is given at a set rate.
Volcanic Vortex Level 1
45

Fireball +
Passive
Enhance the Fireball skill, so it can attack in three different direction during 2-3 stage charge and increase the attack rate of 3rd stage charge by pressing the special attack button.
Fireball Level 11
47

Magma Ball
Active
Pumps molten lava from the ground, creates a magma ball, and sends it rolling to the front. The magma will explode after a certain distance, inflicting significant damage.
Burning Hand Level 1
50

Inferno +
Passive
Strengthens Inferno, increasing damage, AoE size, and inflicts a debuff that increases all fire damage received by the target. Grants the ability to launch a fireball by clicking the normal attack mouse button.
Inferno Level 1
Fireball + Level 1
55

Fire Wall +
Passive
Strengthens Fire Wall, increasing damage. Grants the ability to launch a fireball by clicking the normal attack mouse button.
Fire Wall Level 1
60
• CLASSES •

Warrior
↙ ↘

Archer
↙ ↘

Sorceress
↙ ↘

Cleric
↙ ↘

Academic
↙ ↘

Kali
↙ ↘

Swordsman
↓

Mercenary
↓

Bowmaster
↓

Acrobat
↓

Force User
↓

Elemental Lord
↓

Paladin
↓

Priest
↓

Engineer
↓

Alchemist
↓

Screamer
↓

Dancer
↓

Gladiator

Barbarian

Artillery

Tempest

Smasher

Saleana

Crusader

Inquisitor

Gear Master

Adept

Dark Summoner

Blade Dancer

Moonlord

Destroyer

Sniper

Windwalker

Chaos Mage

Ice Witch

Guardian

Saint

Shooting Star

Physician

Soul Eater

Spirit Dancer

Assassin
↙ ↘

Lancea
↙ ↘

Machina
↙ ↘

Chaser
↓

Chaser
↓

Piercer
↓

Knightess
↓

Patrona
↓

Launcher
↓

Raven


Abyss Walker


Flurry


Avalanche


Defensio


Impactor


Reaper


Light Bringer


Sting Breezer


Randgrid


Ruina


Buster


Dark Avenger


Silver Hunter


Arch Heretic


Black Mara


Ray Mechanic


Oracle Elder


Bleed Phantom


Vena Plaga