Jurassic World: Dominion Dominates Fandom Wikis - The Loop
Play Sound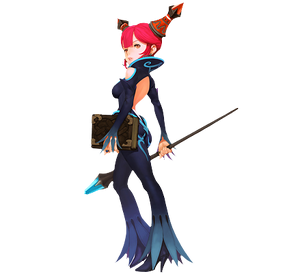 == Description ==
Gender: Female
Her low Stamina and Defense may put her in danger at times in battles but her ability to deal huge magic damage makes up for her weakness.

Known as a child prodigy among magicians hated and despised by humans, the Sorceress was expected to become the greatest of her kind. Instead of bringing peace and prosperity to the land though, she turned her back on her destiny and lost herself in gambling. Now she battles monsters to collect the gold to pay off her gambling debts while being unaware that destiny is not so easily thwarted.
The Sorceress starts her journey in Mana Ridge.

Features:

Medium ranged spells.
Can move while using their basic attack.
Can inflict a variety of status ailments.

Sorceress Weapons:

Primary Weapon(s): Staff
The Staff is considered to be an auxiliary weapon by the game and carries traits of an auxiliary weapon.


Auxiliary Weapon(s): Grimoire, Orb, Puppet
Orbs attack enemies by spinning around the Sorceress. Orbs provide additional magic attack power and critical rate.
Sorceress Skills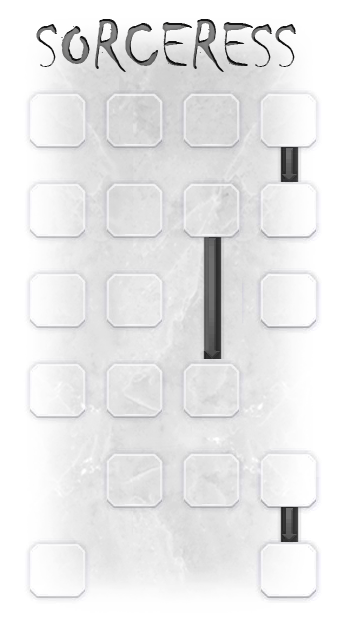 Sub-Classes
Elemental Lord
Elemental Lord is a sorceress who bombards her targets with powerful magic attacks. Beware of her elemental attacks using flames and ice.

Wielding a variety of elemental attacks at her disposal, an Elemental Lord is able to freeze an enemy in the midst of battle, or create flaming explosions at her will. Elemental Lords have just as many status ailments to go with their elemental attacks, as every skill has a potential to inflict some sort of ailment. Unfortunately, many of their skills cause them to stand still most of the time, leaving them vulnerable to enemy attacks..
Having some of the highest damaging skills in the game, an Elemental Lord can create a big impact on the battlefield.
Force User
Force User attacks and plays around with her enemies in various ways. Enemies are caught helpless in her attacks using gravity, time and lasers.

Able to control the force of gravity and the power of the cosmos, Force Users can create black holes from thin air and crush their enemies with a single wave of their hand or launch beams of pure energy. Filled with many skills to aid in the success of the battle, such as Time Stop and Force Mirror, a Force User always tries to exploit the enemy open to attacks. Although they can cast a variety of battle-controlling skills, they do not have many offensive skills. Unlike the Elemental Lord, some of the Force User's skills must be activated by a specific weapon. These can either be the Orb or Puppet.
Having the ability to slow or even stop time itself, Force Users can change the tide of battle within seconds.
Job Advancement
At level 15, go to your corresponding Skill Trainer in Carderock Pass and start your class change quest.
You will be teleported to a large room. Your objective is to protect a goblin in the middle of the room from opposing goblins and ghouls that appear from the six gates in the room.
The goblin that you are supposed to protect can be harmed, so try to not hit him. This is no longer the case.
Tip: It is possible to knock the goblin into a corner using right click, making it easier for you to protect him. He will take some damage(from your attacks), but won't die.
Upon job advancement, you will receive an item that allows you to reset your skills. This item expires after 7 days.
'Beware - once you select your class you CANNOT change it, so choose wisely.
Tips:
All enemies can be one-shorted, provided you have decent equipment. (+6 lvl 5 at minimum)
EmbedVideo was given an illegal value for the alignment parameter "Second Job Advancement Video Guide". Valid values are "left", "center", "right", or "inline".
• CLASSES •

Warrior
↙ ↘

Archer
↙ ↘

Sorceress
↙ ↘

Cleric
↙ ↘

Academic
↙ ↘

Kali
↙ ↘

Swordsman
↓

Mercenary
↓

Bowmaster
↓

Acrobat
↓

Force User
↓

Elemental Lord
↓

Paladin
↓

Priest
↓

Engineer
↓

Alchemist
↓

Screamer
↓

Dancer
↓

Gladiator

Barbarian

Artillery

Tempest

Smasher

Saleana

Crusader

Inquisitor

Gear Master

Adept

Dark Summoner

Blade Dancer

Moonlord

Destroyer

Sniper

Windwalker

Chaos Mage

Ice Witch

Guardian

Saint

Shooting Star

Physician

Soul Eater

Spirit Dancer

Assassin
↙ ↘

Lancea
↙ ↘

Machina
↙ ↘

Chaser
↓

Chaser
↓

Piercer
↓

Knightess
↓

Patrona
↓

Launcher
↓

Raven


Abyss Walker


Flurry


Avalanche


Defensio


Impactor


Reaper


Light Bringer


Sting Breezer


Randgrid


Ruina


Buster


Dark Avenger


Silver Hunter


Arch Heretic


Black Mara


Ray Mechanic


Oracle Elder


Bleed Phantom


Vena Plaga