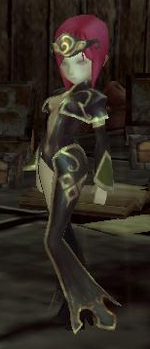 A Sorceress and student of the Astral Coven. She is under the command of Lady Kaylinn. Friendly yet deceitful and money-minded, she is known among the Astral Coven as the "Casino Queen" because she left her studies and gambled away all her tuition fees. Actively seeking out money at every opportunity.
Angelica is one of the four class characters along with Shian, Ethan and Triana who is involved in a series of side-quests in Saint's Haven that deals with the legend of Lodein and Lucifina.
If the player is a Warrior:
Angelica was suspected to have stolen Celestine's pendant. The pendant was later found at Withered Leaf Explosion Area.
If the player is a Cleric:
Angelica was suspected of stealing Lodein's magical items. The items were later recovered at Death City Entrance.