Jurassic World: Dominion Dominates Fandom Wikis - The Loop
Play Sound
This article is incomplete and may require expansion and/or cleanup.

Please improve the article or discuss the issue on the talk page.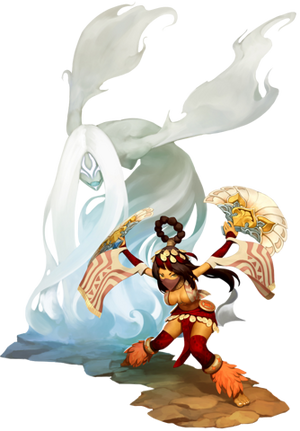 Description
Advancement of the Screamer. The Soul Eater summons spirits to aid her in long ranged combo attacks. Her ability to strengthen her allies' attacks by placing curses and status ailment on her enemies makes her a valuable party support member!
Gender: Female
Features:

Skills inflict a "curse" effect, similar to poison and burning skills.

Soul Eater Weapons:

Primary Weapon: Fans


Auxiliary Weapon: Focus

Soul Eater Skills
Icon
Name
Passive/Active
Description
Prerequisites
Req. Level

Specter of Pain
Active
Launch a Specter of Pain to damage enemies. The specter inflicts the "Spirit Curse" debuff which explodes after it stacks to 3.
Dragon's Soul Level 1
45

Spirit Paper +
Passive
Strengthens Spirit Paper, increasing damage and number of birds by 2. Birds will deal 2 hits and explodes on contact, dealing damage to nearby enemies. Spirit Paper + launches and additional bird at the Branded target.
Spirit Paper Level 6
47

Spirit Scream
Active
Summon a Grudge Spirit to unleash a howl at enemies. Inflicts a debuff that prevents enemies from dealing critical strikes. Also increases the critical strike chance against them and reduces their critical resistance.
Specter of Pain Level 1
50

Cling Snake +
Passive
Strengthens Cling Snake, increasing damage, AoE size, and number of snakes by 1. Causes enemies to become immobilized for 3 seconds.
Cling Snake Level 1
Spirit Paper + Level 1
55

Soul Gate +
Passive
Strengthens Soul Gate, increasing damage. Occasionally fire a large spirit that explodes on contact, knocking enemies down.
Soul Gate Level 1
60
• CLASSES •

Warrior
↙ ↘

Archer
↙ ↘

Sorceress
↙ ↘

Cleric
↙ ↘

Academic
↙ ↘

Kali
↙ ↘

Swordsman
↓

Mercenary
↓

Bowmaster
↓

Acrobat
↓

Force User
↓

Elemental Lord
↓

Paladin
↓

Priest
↓

Engineer
↓

Alchemist
↓

Screamer
↓

Dancer
↓

Gladiator

Barbarian

Artillery

Tempest

Smasher

Saleana

Crusader

Inquisitor

Gear Master

Adept

Dark Summoner

Blade Dancer

Moonlord

Destroyer

Sniper

Windwalker

Chaos Mage

Ice Witch

Guardian

Saint

Shooting Star

Physician

Soul Eater

Spirit Dancer

Assassin
↙ ↘

Lancea
↙ ↘

Machina
↙ ↘

Chaser
↓

Chaser
↓

Piercer
↓

Knightess
↓

Patrona
↓

Launcher
↓

Raven


Abyss Walker


Flurry


Avalanche


Defensio


Impactor


Reaper


Light Bringer


Sting Breezer


Randgrid


Ruina


Buster


Dark Avenger


Silver Hunter


Arch Heretic


Black Mara


Ray Mechanic


Oracle Elder


Bleed Phantom


Vena Plaga