---
Latest revision as of 20:25, 6 November 2011

The Fete of All Flesh is an event celebrating the holiday of Halloween. There are a few new quests and items that players can get.
This event runs from October 26th - November 16th for the 2011 year.
Hello, Adventurers!
Your king hopes you've been enjoying The Fete of All Flesh, Saint Haven's annual Halloween celebration! Between hunting Hellhounds and transforming into a ghoul, it's tough to see how this party could get any better, but the Royal Court has outdone itself with two new Halloween Happenings!
Event: Pumpkin Duck Hunt[]
Details: Starting on October 26, adventurers should speak to Irine, the official Royal Event Planner, to get the "Halloween Costume Hunt" quest. Once you have the quest, you'll be on the hunt for the Pumpkin Duck!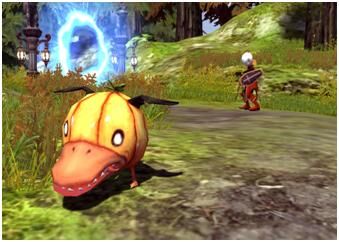 The Pumpkin Duck can be found in any dungeon in the world. Complete that dungeon's goal and kill the beast when it appears to earn:
Reward: Turn in three Halloween Coupons to Irine to receive the following:

3-day Pumpkin Head (Horns)
Good things come to those who save! For every three Halloween Coupons you collect, you can choose from the following (in order):

3-day Pumpkin Head (Lamp)
3-day Pumpkin Head (Demon Wings)
3-day Pumpkin Head (Gentleman)
Halloween Coupons can also be used to extend the duration of a Pumpkin Head.

3 Coupons: Extend a 3-day Pumpkin Head to five days!
3 Coupons: Extend the 5-day Pumpkin Head to 180 days!
Event: Treats and Tricks[]
Details: This Halloween season, the King would like to give everyone a treat just for logging in. The tricks are for the monsters! Simply log in to any town during the event period to receive a Halloween Cookie. Then, take this cookie to a dungeon and use it to immediately restore 30% of your HP!

Quite a surprise for a creature that thought it had you on the ropes!