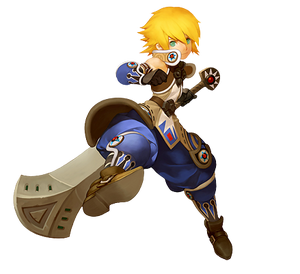 == Description ==
Gender: Male
A powerful and offensive melee fighter. His immense strength and stamina make him a good tanker in battle.

The Warrior comes from Prairie Town. Legend has it that he was brought to the town as an infant by his mother under mysterious circumstances. Even as a young boy, he was always quick and strong. As he grew, he found himself easily outstripping his peers in the arts of war. In his heart though, he always longed for the truth of his birth and his lineage and now finds himself on a path of personal discovery.
The Warrior begins his adventure in Ironwood Village.

Features:

Strong Physical Attack
Ability to dash
Fast and furious combos
Normal defense

Warrior Weapons:

Primary Weapon(s): Greatsword, Axe, Hammer
Greatswords have very fast swing speed and wide sweeping swings.
Axes have moderate swing speed and its third and final swing is a spinning attack, easily hitting many targets around him at once. Axes have higher critical rate and more stable damage compared to Hammers.
Hammers have slow swing speed. Its third swing will launch target to a great height and its fourth and final swing is a slow ground pound that deals AoE damage and knocks enemies away. Hammers have higher stun rate compared to Axes and very unstable damage.


Auxiliary Weapon(s): Gauntlets

Warrior Skills
Sub-Classes
Swordmaster
Swordmaster is capable of both physical melee attacks and long range magic attacks. He uses the sword to deal heavy blows on the target.

Swordmaster has some of the fastest attacks in the game and is a very versatile class, being able to have long chains of combos, range, as well as having a high survivability rate, due to their speed. Whether focusing on their Melee or Wave skill trees, a swordmaster can specialize in destroying enemies one-on-one or dealing consistent damage to a wave of enemies.
The Physical tree focuses on killing one enemy and burst, and the magical tree focuses on hitting multiple foes and consistent output.
Mercenary
Mercenary is armed with powerful super armor destruction powers. His fearless demeanor strengthens his allies and silences the enemies.

Some of the Mercenary's skills are heavier and slower than most other classes, but can bring up devastating effects; easily plow through enemy's superarmor launching or staggering them away. Having some of the highest superarmor in the whole game, a decent mercenary who can make full use of them could become very dangerous. They generally have easier combo ability than Swordsmen, due to the chain ability between their skills and the normal attack of a axe and hammer. Unlike the Swordsman, some of the Mercenary's skills must be activated by a specific weapon. These can either be the Axe or Hammer.
Nearly all of their skills can attack over a large area, but scatter them, it is difficult for them to crowd control unless the player is experienced.
Job Advancement
At level 15, go to your corresponding Skill Trainer in Carderock Pass and start your class change quest.
As warrior, your objective is to defend the center with all the boxes and defeat as many orcs as you can within 3 minutes. Once the 3 minutes are up, you have passed the test.
Upon job advancement, you will receive an item that allows you to reset your skills. This item expires after 7 days.
Beware - once you select your class you CANNOT change it, so choose wisely.
Tips:
• CLASSES •

Warrior
↙ ↘

Archer
↙ ↘

Sorceress
↙ ↘

Cleric
↙ ↘

Academic
↙ ↘

Kali
↙ ↘

Swordsman
↓

Mercenary
↓

Bowmaster
↓

Acrobat
↓

Force User
↓

Elemental Lord
↓

Paladin
↓

Priest
↓

Engineer
↓

Alchemist
↓

Screamer
↓

Dancer
↓

Gladiator

Barbarian

Artillery

Tempest

Smasher

Saleana

Crusader

Inquisitor

Gear Master

Adept

Dark Summoner

Blade Dancer

Moonlord

Destroyer

Sniper

Windwalker

Chaos Mage

Ice Witch

Guardian

Saint

Shooting Star

Physician

Soul Eater

Spirit Dancer

Assassin
↙ ↘

Lancea
↙ ↘

Machina
↙ ↘

Chaser
↓

Chaser
↓

Piercer
↓

Knightess
↓

Patrona
↓

Launcher
↓

Raven


Abyss Walker


Flurry


Avalanche


Defensio


Impactor


Reaper


Light Bringer


Sting Breezer


Randgrid


Ruina


Buster


Dark Avenger


Silver Hunter


Arch Heretic


Black Mara


Ray Mechanic


Oracle Elder


Bleed Phantom


Vena Plaga